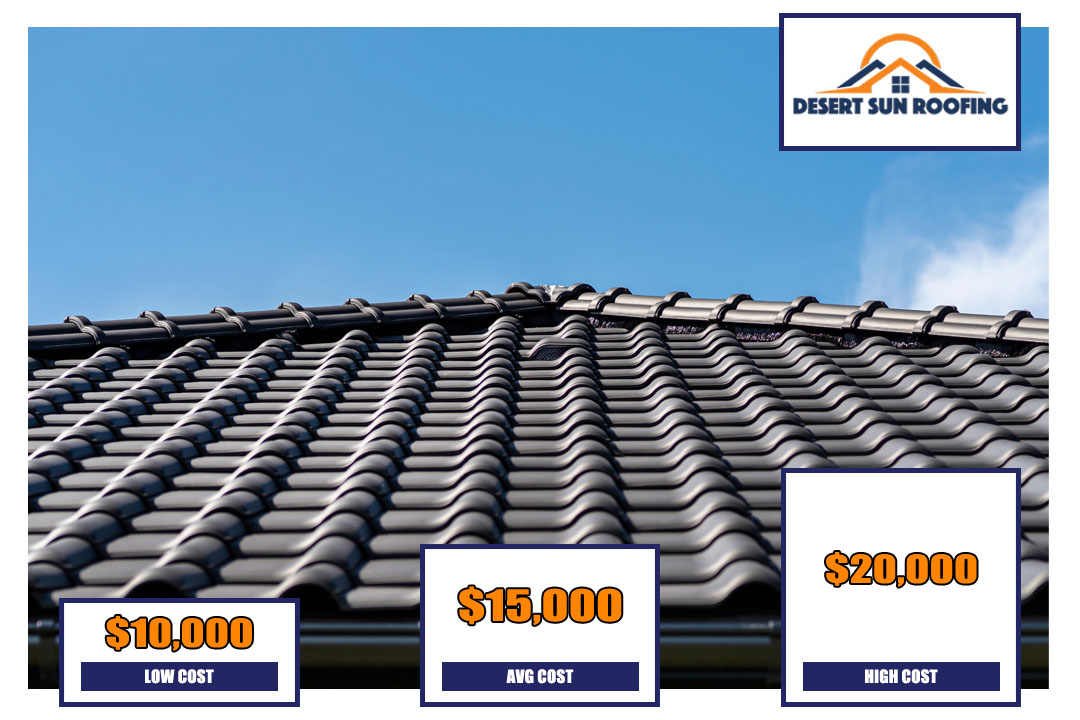 On average a new roof in Arizona cost about $15,000. The cost to install a newer roof is around $10,000-$20,000+ in 2021. The cost is subject to the roofing materials and products used in its construction. Framing manufactured from metal is going to be more expensive than wood.
New Roof in Arizona Cost Consideration & Pricing
The Roof: Labor & Overhead: $4,500
The New Roof Materials: $3,000
Gutter Materials: $500
Gutter Labor: $500
Total: $8,500
New Metal Roof Costs
With so many roofing options out there, a metal roofs are going to last the longest. It is an ideal option for homeowners that are in their forever home. Subject to their design size, they can range in prices from around $5,000- $21,500.
New Wood Shake Roof Costs
Visually breathtaking, this conventional method of roofing isn't as durable as up to date roofing materials and methods. You can anticipate paying anywhere from $7,000 for new shakes manufactured out of natural wood, to $15,000 for the most recent wood shake materials with the benefit of being resistant to fire.
New Asphalt Shingle Roof Costs
Among the most favorable roofing, this type also happens to be one of the least costly! Pricing ranging from $1,650- $8,000 for commonplace options – newer, more enduring asphalt shingles are going to last longer.
New Tile Roof Costs
Appealing to look at and durable, too, a new tile roof costs typically range somewhere from $7,500-$20,500. Subject if you decide on ceramic tiles or other features like colors, glazing and/or custom shapes, the cost could be higher or lower.
New Slate Roof Costs
In the durability game, slate is equal to metal roofing but where it takes the win is in its gorgeous appearance. Its natural look more than makes up for the extra expense for a new roof installed with slate. A 3,000 sq ft roof is going to set you back somewhere from $26,500-$110,500. But nowadays there magnificent looking synthetic slate alternatives that for a comparable sized roof drastically decreases the cost to $20,500-$27,500.
Cost for Removal & Replacement of Roofing In Arizona
$1 to $5 sq ft is the price for the removal and disposal of a roof that has become dilapidated. The average cost for the job is around $1,000 to $1,500 and many roofing contractors are going charge by the hour ranging from $40-$80. Also, remember when the timbers are rotted out and reinforcements are going to be required it could increase the cost anywhere from $1,000-$10,000 subject to what is needed. Professionals going to sometimes include removal and replacement when proposing their quote to you. This rate could vary by location, materials needed, amount of work, and the roofs accessibility. The most demanding part of the project is always going be the removal of the worn-out shingles. Whereas you can save yourself around $1,000 with a DIY project, but don't forget it is very possible roofing contractors can do the project more safely and competently.
Average Price of Replacing Your Roof vs. Repairing In Phoenix
A new roof cost $7,500 on average but roof repairs average cost is only going to set you back $550. Just because your roof has a leak it doesn't mean you should call a roofing contractor right away.
Think About Replacing Your Roof in Arizona When:
Certain materials are going to naturally cost more for repairing than others. For instance, slate roof repairs cost $700- $2,000. Compared to $300-$1,000 for the average asphalt repair costs.
Contact Desert Sun Roofing LLC right here!
Desert Sun Roofing LLC In Phoenix, AZ
At Desert Sun Roofing LLC, we offer new roofing in Arizona and know that choosing a Roofing Contractor in the Phoenix, AZ Area is a tough job. We are here to help make it easier! Locally owned and operated out of Chandler, Desert Sun Roofing LLC has been providing roof installation and roof repairs throughout the greater Phoenix area since 1995. With each new roofing project, we strive to provide professional, timely service at a fair price. Contact Desert Sun Roofing LLC right here!