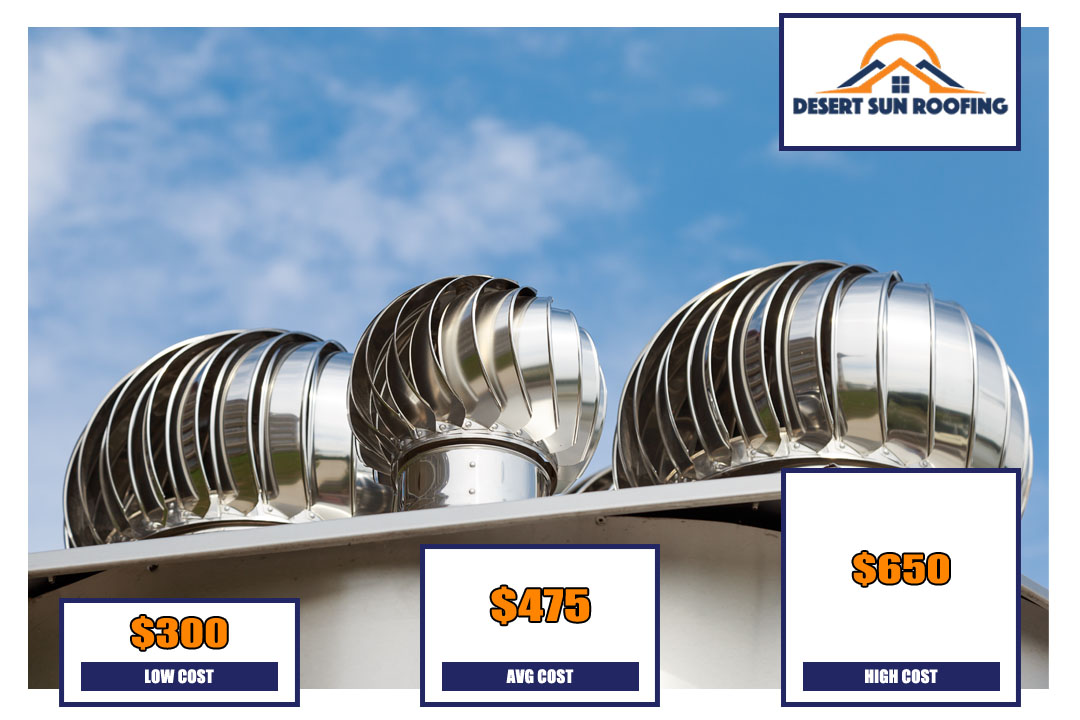 On average, roof vent installation costs around $475 in the US. Installing a roof vent costs somewhere around $300-$650, including labor and the materials. Precise rates are subject to its kind, its size, and the number of units you are wanting to install. Ridge vents cost $2- $3 per running foot. Roof vents come in a plethora of styles and are priced from $10- $500 each.
Ridge units run the span of the roof's peak and allows warm, moist air to escape. Soffit vents extend along the underbelly of eaves and increases airflow by letting it enter from the outside. Roof and gable types give a single point of entry and exit for airflow. The ideal system is a combination of ridge and soffit models. Nevertheless, any airflow is better than not having any.
It doesn't matter who's told you, roof ventilation is not only for warm climates. It increases the lifespan of your roof by decreasing condensation that could cause damage structurally. Because a new roof is probably the costliest project a homeowner can take on, ventilation is a required and solid investment. Don't forget, your attic is required to be airtight for adequate airflow, and there could be an additional cost for sealing your roof. To attain proper airflow, speak with a knowledgeable roofing contractor from Desert Sun Roofing. In a lot of cases, homeowner's do not have the knowledge or skill to take on this project on their own
Average Roof Ridge Vent Costs
Low Cost     $300
Average Cost     $475
High Cost     $650
Install Roof Vents Cost
The phrase "roof vent" can refer to any type of style, in which could cost anywhere from $10-$500, not including their installation. They come in a variety of colors and kinds, examples are round ones that have mesh like appearance and bigger, rectangular units. Finish color and style are going to determine exact costs. Static units are going to fall on the low end of the price range, whereas powered units are going to fall on the high end.
Installation is Additionally Going to Differ by Style and Type
A professional can install static or wind-driven units in one or two hours at a rate of $45-$75 each hour, for a complete cost between $45-$150.
Powered units may require three to four hours for installation between $135-$300, because the professional is required to connect it to a power source. Appliance vent installation times and rates vary.
Roof Vent Replacement Cost
You can anticipate paying between $150-$250 for labor for the removal the old unit and install the new one in its place. Obviously, you are also going to need to buy a newer unit at a replacement cost of $10-$500.
How Do I Calculate How Much Venting I Need?
You need to have at a minimum 1 square foot of venting for every 150 square feet of attic space. Whenever possible, you need place half of the units towards the top of the roof and half in the soffit near the bottom.
Types of Roof Vents
Some kinds of roof vents are more beneficial than others, but each one has the basic task of either taking out stale air from your attic "exhaust" then allowing fresh air into the home "intake". Below are a couple types of roof vents.
GABLE-END VENTS
Gable end vents are made of wood and are installed on the outside wall of your attic under where the 2 slopes of the roof converge. This vent is reliant on the wind coming from the outside to push the air in and out of the attic.
STATIC VENTS
These work by allowing heat to emanate out of the roof through convection.
Meaning as heat in the attic rises, the hot air gets moved out through the vents. You may also hear these vents referred to as turtle vents.
RIDGE VENTS
Ridge vents get cut into the ridge of the roof and run the complete length of it.
This style of vent is favorable since they aren't seen from the ground. Whereas they're extremely favorable, the disadvantage to this vent is that if doesn't have a filter, insects, debris, rainwater, and snow can get inside the attic.
ROOF LOUVERS
A louvered roof offers safeguarding from the weather and creates an attractive visual interpretation of your outdoor living space. When the aesthetic and architecture of the home is important to you, a louvered roof replaces the notion of a conventional patio cover with a design aspect that enhances the overall look and feel of your home and outdoor living spaces. Louvered roofs are roofs designed with slanted horizontal slats that are able to be opened and closed whenever you wish.
ROOF FANS
Proper ventilation can help keep your attic cool by pushing out overwhelming hot air from the inside and letting in cool air from the outside. This hinders the hot air from going downward inside your home and increasing the temperature – or your electric bill, as you keep turning on the AC. Roof fans help aid in this issue.
SOLAR ROOF VENTS
Solar powered vents are similar to powered vents; however, the sun is their power source.
These vents are ideal from an energy saving standpoint, but they turn off when the solar powered battery is being charged.
The main issue is that the solar panel isn't going to hold a charge long enough to run the vent all day long because of the power required to run the motor. So, when the battery is recharging, you might end up running your air conditioner more, which is going to lead to higher electric bills.
TURBINE ROOF VENTS
Turbine vents work through convection for moving the air in your attic around even when it's not windy.
If this type of vent is installed correctly, your attic air is circulated around 10-12 times each hour.
Considering turbine vents have curved slats on them and are open-aired to your attic, there is concern that the elements, insects, or debris can get into your home through them. Nevertheless, they're designed so that none of this happens unless the vent gets damaged.
SOFFIT VENTS
A soffit vent is just a vent installed underneath your home's eaves (referred to as the soffit) that allows fresher outside air to be drawn into your attic. Just about every home is fitted with some sort of roof vent at the peak of their roofline, they could be individual roof vents, slope roof ventilation, and a lot of homes have gable-end vents additionally. These offer some ventilation, but when used together with a soffit vent, they work a lot more efficiently.
Roof Vents Total Cost (Unit Price and Labor)
Mushroom (static) $55-$230
Eyebrow/Dormer (static) $75-$190
Turtle/Flat* (static) $55-$190
Cupola (static) $145-$550
Wind-Driven Turbine $65-$250
Powered Electric $235-$700
Solar Powered $335-$800
*Also known as low profile, louvers or box
DIY vs. Hiring a Pro
Because of the skill required and the dangers of roof work, it is usually a good idea to leave roof vent installation to the contractor.
Hiring a licensed, experienced professional can hinder costly repairs or damage from incorrect installation. The ideal time for installing new ridge and roof units is when getting a roof installation or replacement when you are able to add the costs into the present work. The ideal time for installing appliance vents is when you have the appliance installed.
Contact Desert Sun Roofing LLC right here!

Desert Sun Roofing LLC In Phoenix, AZ
At Desert Sun Roofing LLC, we offer new roofing in Arizona and know that choosing a Roofing Contractor in the Phoenix, AZ Area is a tough job. We are here to help make it easier! Locally owned and operated out of Chandler, Desert Sun Roofing LLC has been providing roof installation and roof repairs throughout the greater Phoenix area since 1995. With each new roofing project, we strive to provide professional, timely service at a fair price. Contact Desert Sun Roofing LLC right here!