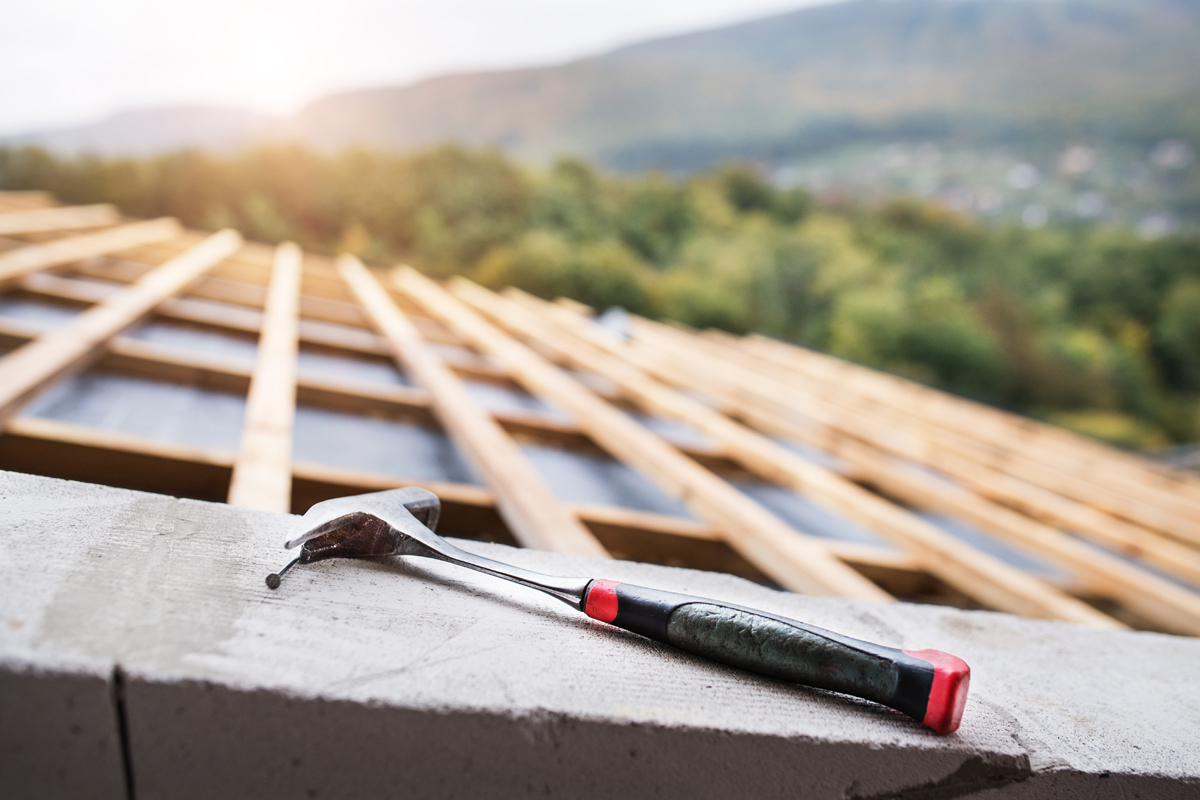 Regular inspections are recommended twice per year in order to keep your roof in the best possible shape. Hopefully, these thorough inspections will be able to identify any small problems before they escalate. So, how often do most roofs need to be replaced? It all depends on the roofing material. Let's look at all the details below!
How Often To Replace A Roof?
While the underlying structure should last the lifespan of the house, some roofing materials may call for full replacements over time. Here are the recommendations for a full replacement based on type:
Composition shingles: 12-20 years.
Wood shingles: 20-25 years.
Asphalt shingles: 15-30 years.
Metal roofs: 50-75 years.
Rubber roofs: 30-50 years.
Average Roof Life Expectancy Based On Material
The suggested time frames listed above will vary based on the climate that each roof is ultimately exposed to. Severe winters and/or humidity will wear out most materials as the years go by.
TILE ROOFS
Stone tiles are typically made of slate, concrete, clay and terracotta. There are many benefits of this roofing material, including its ability to withstand strong winds and resist fading from sunlight. However, tile roofing will require professional installation since it is extremely heavy duty. Due to its overall strength and durability, tile roofing can last a very long time even in the harshest of conditions.
Average Life Expectancy: 40-60 years.
METAL ROOFS
Metal roofing is a material made of galvanized or stainless steel sheeting. Copper sheets and tiles are an alternative option with this roofing. The cost of the steel roofing will very much depend on the sheet's profile that is applied to the finish, as well as the roof shape and size. Undoubtedly, metal roofing will provide durability. Using copper can give your home an old world appearance, turning a pale green patina with age.
Average Life Expectancy: 50-75 years.
SHINGLE ROOFS
The two available options for shingle roofing are asphalt compositions and either crushed stone or fiberglass. Asphalt shingles tend to be less expensive with fewer maintenance needs and ease of installation. The only downside with asphalt is that it does not hold up as well as other materials when faced with inclement weather. Fiberglass shingles, meanwhile, cost more yet last much longer.
Average Life Expectancy: 15-50 years.
SHAKE ROOFS
Made of pressure treated wood or cedar, shake roof tiles are more expensive than asphalt shingles. The wood shingles and shakes require regular maintenance and are available in aged or pre-stained finishes. Shake roof tiles will typically give your roofing a weathered appearance. Wood shingles can resist rot and insects, but won't last as long as copper.
Average Life Expectancy: 30-100 years.
FLAT ROOFS
Generally, a flat roof's life expectancy heavily relies on the material(s) used to cover it. Asphalt coverings will feature two layers of felt combined with molten asphalt, topped by a gravel layer. An alternative option is rubber roofing. This rubber roofing could be EPDM or an elastomeric membrane, which will not be covered by gravel. This roofing type is more expensive than asphalt due to its durability and UV resistance.
Average Life Expectancy: 10-50 years.

What Are The Most Common Roofing Issues?
If roofing materials are improperly installed, this can increase the chances of issues arising over time. So, what are the most common roofing problems? Here is a look at the top ten.
LEAKS
All sorts of inclement weather can cause moisture to build up. These conditions include rain, hail, snow, ice and wind. Any of these conditions can create moisture in between layers of your roofing. Several different things can happen as a result of moisture and leaks. The worst case scenarios include any sort of leaking, mold or rotting.
PUNCTURES
Hail and wind damage are generally responsible for creating any punctures in the roofing system. After your roof has been completely installed, the sealant and flashing are added around any potential areas that can be penetrated. These areas include vents for appliances, the HVAC, etc. All of these areas should be checked routinely as part of general maintenance.
FAULTY FLASHING
A poorly attached flashing will generally result in open seams and laps in the roofing. This can eventually lead to windstorms that blow tiles off the roof. Whenever the flashing has been improperly installed, your roof will have less protection than it needs. Areas of the roof that are typically penetrated are the skylights, vent pipes, heating/cooling systems and chimneys.
CRITTERS
Most homeowners are shocked to learn just how much damage small critters can cause to their roofing. It is recommended to attempt to deter any small insects or birds from coming in contact with your valuable roofing system.
TREES
The protective top layer of your roof can easily be damaged by trees simply rubbing up against it. This can cause the shingles to abrade, wearing down the top layer over time. Fallen tree branches can cause even more damage. Try to perform general maintenance with your trees, trimming limbs and branches year-round. Remove any trees that could potentially collapse the roofing.
VENTILATION
Installing a ventilation system in the attic will help prolong your roof's lifespan. The systems helps regulate the moisture that builds up in the attic space. If a system is not in place, damage can be caused to sheathing, rafters, shingles, mold and insulation.
BLISTERING
The roofing membrane can be found under the shingles and tiles, and if these start to shrink, cracks can begin to develop in the upper layer. Blistering, ridging and erosion can all cause big issues with the roof.
LACK OF MAINTENANCE
The worst possible thing you can do to your roofing is neglect it. Generally, problems will begin by the buildup of debris in the gutters. The importance of regularly scheduled maintenance cannot be overstated. Have your roofs inspected to extend the life of the roof and save money in the long run.
MISSING/DAMAGED SHINGLES
Shingles can go missing during times of severe weather. In these situations, shingles can even crack and break. You can hire a professional to repair and/or replace shingles.
DRAINAGE ISSUES
Poor drainage can lead to a number of troubles, including severe water damage. You will need to watch your ceiling for water stains if your home has a flat roof. These will indicate water is pooling on the roof during and after a rainstorm. If the roof is slanted, be sure to keep the gutters clear to prevent against any leaking.
COST TO TEAR OFF AND REPLACE ROOF BASED ON MATERIAL
Of course, the average cost of a tear off and replacement will vary based on the material used for the project. The estimates above are based on the common installation of asphalt shingles. So, what should you expect to pay if you wanted a different material for your roof? There are three different types of asphalt shingles used today, including architectural/dimensional, 3-tab and luxury. Each type has a different look, lifespan and price point.
A smaller, one-story house will pay an average of $3.68 per square foot for basic 3-tab shingles. A two-story home with a little complexity in the roofing structure will likely pay $4.76 per square foot. A two-story with a complex roof that is not easy to access could end up paying $7.50 per square foot.
As mentioned, here are the costs for this task for the average home:
Lowest Cost: $5,960
Average Cost: $9,350
Highest Cost: $12,740

Desert Sun Roofing LLC In Phoenix, AZ
At Desert Sun Roofing LLC, we know choosing a Roofing Contractor in the Phoenix, AZ Area is a tough job. We are here to help make it easier! Locally owned and operated out of Chandler, Desert Sun Roofing LLC has been providing roof installation and roof repairs throughout the greater Phoenix area since 1995. With each new roofing project, we strive to provide professional, timely service at a fair price. Contact Desert Sun Roofing LLC right here!