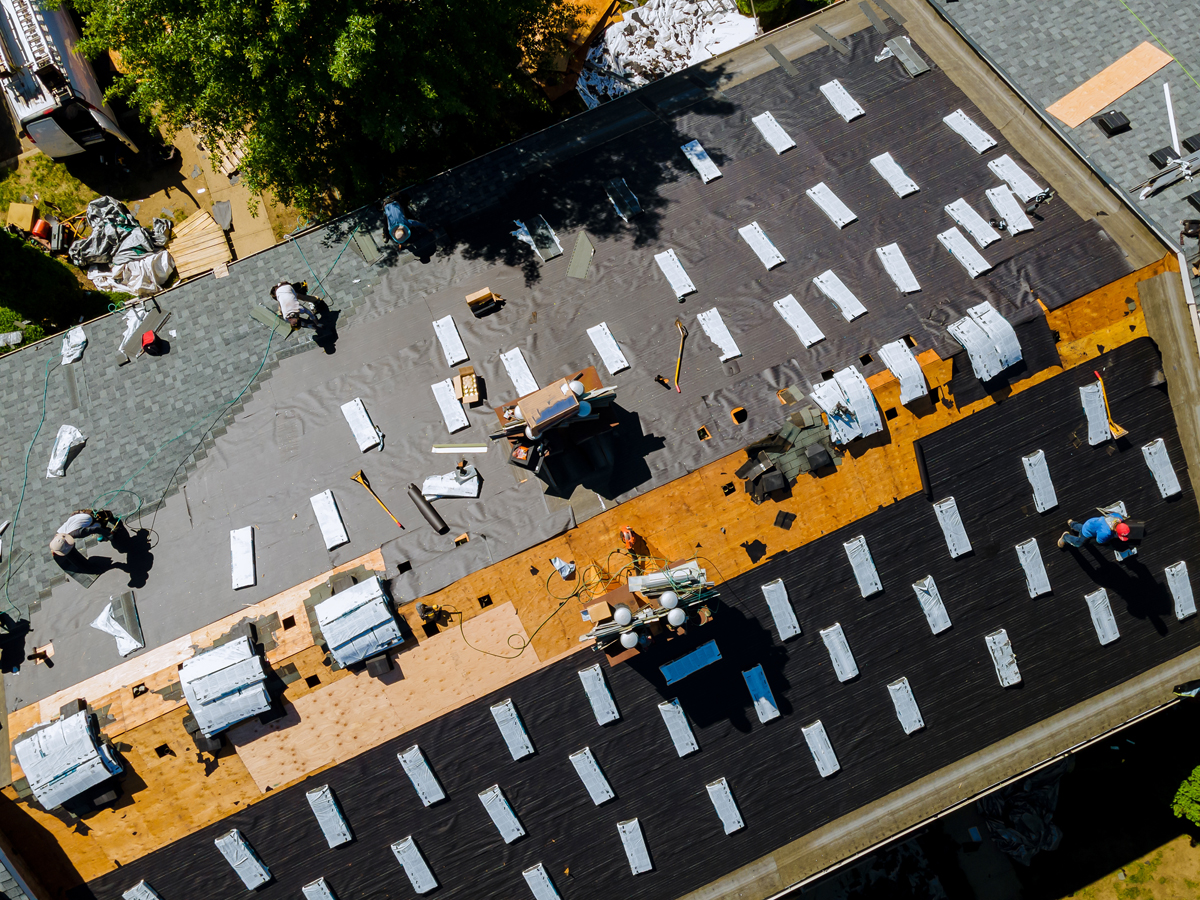 The average cost of tearing off and replacing a roof on a 2,000-2,200 sq. ft. home is between $5,960-$12,740, according to RemodelingCosts. Meanwhile, BillRagan estimates that homeowners living in a home with 3 bedrooms and 2 bathrooms will pay between $12,000-$15,000 for a roofing replacement.
Cost To Tear Off And Replace Roof Based On Material
Of course, the average cost of a tear off and replacement will vary based on the material used for the project. The estimates above are based on the common installation of asphalt shingles. So what should you expect to pay if you wanted a different material for your roof? There are three different types of asphalt shingles used today, including architectural/dimensional, 3-tab and luxury. Each type has a different look, lifespan and price point.
A smaller, one-story house will pay an average of $3.68 per square foot for basic 3-tab shingles. A two-story home with a little complexity in the roofing structure will likely pay $4.76 per square foot. A two-story with a complex roof that is not easy to access could end up paying $7.50 per square foot.
As mentioned, here are the costs for this task for the average home:
Lowest Cost: $5,960
Average Cost: $9,350
Highest Cost: $12,740

Cost To Tear Off And Replace A Metal Roof
A standing seam metal roof and a screw-down metal panel roof are the two metal roofing options homeowners can choose from. Both types will come with different costs, just like asphalt shingles. A screw-down panel metal roof costs $4.50 per square foot, while standing seam metal can cost up $15.00 per square foot.
Cost To Tear Off And Replace A Slate Roof
Again, a slate roof is considered a premium roofing system. It is one of the most durable roofing materials on the market today. For materials and labor, installation of slate roofing will cost between $15.00-$30.00 per square foot.
Cost To Tear Off And Replace A Cedar Shake Roof
Made of natural wood, a cedar shake roof is viewed as a premium roofing system. With that distinction, of course, comes a higher cost of installation. A one-story house with a simple roofing setup will still cost around $14.00 per square foot for cedar installation. A larger, more complex roofing system will cost $18.00 per square foot.
Average Costs Of Roof Replacement
These are the typical costs of tearing down and replacing a roof on a 2,000-2,200 sq. ft. home:
Wood Shingles: $14,000-$25,500
Aluminum Shingles: $15,000-$27,500
Steel Shingles: $14,000-$25,500
2-Tab Asphalt Shingles: $8,500-$12,500
30-Year Shingles: $9,500-$16,500
50-Year Premium Shingles: $10,000-$18,500
EPDM Rubber Membrane: $8,000-$14,500
TPO Or PVC Membrane: $10,000-$16,500
Standing Seam: $18,000-$29,500
Clay Tiles: $25,000-$45,500
Concrete Tiles: $25,000-$40,500
Natural Slate: $25,000-$50,500
Tear Off And Replace Roof Costs By Square Footage
Here is a breakdown of the average costs to tear off and replace roofing by square footage:
1,000 sq. ft.: $3,000-$6,000
1,200 sq. ft.: $3,600-$7,200
1,500 sq. ft.: $4,500-$9,000
1,700 sq. ft.: $5,100-$10,200
2,000 sq. ft.: $6,000-$12,000
2,500 sq. ft.: $7,500-$15,000
3,000 sq. ft.: $9,000-$18,000
3,500 sq. ft.: $10,500-$21,000
*All cost estimates are according to HomeGuide.
Typical Cost Factors For A Roof Replacement
So how exactly does a roofing contractor come up with an exact price for your tear off and replacement? After speaking with the homeowner and inspecting the roof, a contractor will come up with an estimate based on these factors:
Roof Size And Slope: Steeper sloped roofs will have a larger surface area, which creates a more difficult and dangerous work environment.
Roof Complexity: A roof that features several level changes and add-ons will create a tougher job for the contractor, adding to the overall price tag.
Materials: This refers to several different things. The materials can be the type of roofing material, plus any extra needed supplies, such as plywood, nails, tarps, chalk, etc.
Existing Layers: It is recommended to do a complete replacement instead of trying to install over existing shingles. The more layers that must be removed before installation will increase the total cost.
Waste Removal: Asphalt shingles, for example, are considered hazardous waste and must be properly disposed.
Roof Underlayment And Accessories: Underlayment and accessories are what make the roof complete and watertight.
Labor: Labor typically makes up 50-60% of the total replacement cost.
Roof Decking/Sheathing: On average, decking costs $2-$5 per square foot in order to replace any damage or rot.
Roof Inspection: The average roof inspection across the country costs $100-$400.
Repairs: Roof repairs may cost anywhere from $150-$3,000.
Ventilation: Roof vent installation is priced between $200-$700.
Drip Edge: Drip edge installation will cost $1.50-$3.00 per linear foot to protect the roof edges.
Gutter replacement/installation: Gutter installation costs $5-$15 per linear foot. A full replacement, meanwhile, runs between $6-$17 per linear foot.
Permits: Typically, permits for roof replacements cost anywhere from $100-$500.
What Is A Roof Tear Off?
During this process, roofing contractors will remove the existing roof, while also repairing and replacing any damaged decking. Roofers tend to utilize a "tear-off fork" that easily slides beneath the shingles, lifting them off the surface. The installation of the new roof then takes place.
How Long Does It Take To Tear Off A Roof?
Tearing off and ultimately replacing a shingle roof will usually take between 1-3 days' time. Tile replacements take a bit longer, averaging between 6-8 days. Any inclement weather conditions can delay this process.
When To Replace A Roof
Homeowners should consider tearing off and replacing their roof if the following is true:
The shingles are over 20 years old.
Your roof is leaking in more than one spot.
The roof is either sagging or has structural damage.
Shingles are cracking or brittle.
Current damage affects more than 25% of the total surface.
Repair cost is more than 30% of the cost of a new roof.
How Long Do Roofs Last?
When is it time to consider a tear off and replacement for your roofing system? Let's look at three roofing types we've previously touched on: shingles, shake and metal.
The two available options for shingle roofing are asphalt compositions and either crushed stone or fiberglass. Asphalt shingles tend to be less expensive with fewer maintenance needs and ease of installation. The only downside with asphalt is that it does not hold up as well as other materials when faced with inclement weather. Fiberglass shingles, meanwhile, cost more yet last much longer. Shingles should last 15-50 years.
Made of pressure treated wood or cedar, shake roof tiles are more expensive than asphalt shingles. The wood shingles and shakes require regular maintenance and are available in aged or pre-stained finishes. Shake roof tiles will typically give your roofing a weathered appearance. Wood shingles can resist rot and insects, but won't last as long as copper. 30-100 years is an average lifespan with shake roofing.
Metal roofing is a material made of galvanized or stainless steel sheeting. Copper sheets and tiles are an alternative option with this roofing. The cost of the steel roofing will very much depend on the sheet's profile that is applied to the finish, as well as the roof shape and size. Undoubtedly, metal roofing will provide durability. Using copper can give your home an old world appearance, turning a pale green patina with age. Metal roofing has been shown to last over 100 years.
Finding A Roofer Near You
With over 25 years of experience, it's no wonder why Desert Sun Roofing LLC has been trusted all over the valley of the sun. A wide variety of services include tile roof underlayment, flat roof repairs and exterior painting. Desert Sun Roofing can handle any residential or commercial roofing needs. Homes all across the valley take a beating, whether its constant sunlight or monsoon season. Keep your roof in the best shape possible with regular inspections from these professionals.
Services:
Roof Repair
Roof Replacement
Roof Installation
Exterior Painting
Contact Desert Sun Roofing LLC right here!

Desert Sun Roofing LLC In Phoenix, AZ
At Desert Sun Roofing LLC, we know choosing a Roofing Contractor in the Phoenix, AZ Area is a tough job. We are here to help make it easier! Locally owned and operated out of Chandler, Desert Sun Roofing LLC has been providing roof installation and roof repairs throughout the greater Phoenix area since 1995. With each new roofing project, we strive to provide professional, timely service at a fair price. Contact Desert Sun Roofing LLC right here!